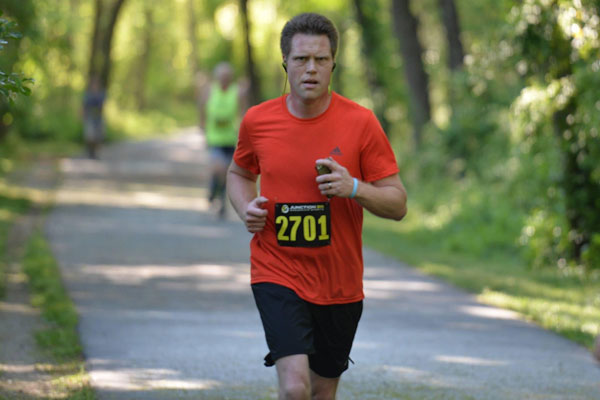 With its cool temps, warm-colored leaves, college football, and the start of school, fall used to be my favorite season. I'm slowly finding a way to enjoy the fall again after that fateful fall of 2014 when our twelve-year old daughter Lilli fell ill, beginning with cold sores that just wouldn't go away. There were other signs of illness, like the time she helped me rake leaves and only lasted a few minutes before needing to go inside and rest. Lilli was our child who never rested after giving up naps just before her second birthday. Something was wrong.
In late November and early December of 2014 the signs of illness increased: a fever that lasted a week, an unidentified virus or bacterial infection, and a daughter who just wanted to sleep or rest all day. After three trips to the pediatrician's office in one week Lilli had a blood test that Friday afternoon. That evening we got the call no parent wants to hear. With tears welling in her eyes my wife LouAnne handed me the phone. "Take Lilli to the emergency room at Brenner Children's Hospital immediately so that they can rule out things like leukemia." Leukemia? I vividly recall the chills running through me after taking shower to get ready for the hospital stay that night.
Our lives were forever changed that weekend. LouAnne and I were suddenly parents of a cancer patient whose siblings, Amelia (10) and Collin (7), were childhood cancer siblings. Lilli started intense chemotherapy for an aggressive form of leukemia (Acute Myeloid Leukemia), and LouAnne and I took turns sleeping at the hospital while the other one worked every other day. With the help of family, church, friends, neighbors, and perfect strangers we were able to survive four straight months of intense chemotherapy treatments with our daughter who lived in the hospital for four straight weeks at a time.
Not knowing if our daughter would live through the hour, day, week, or month took its toll on all of us. While Lilli with her medical team's help was doing everything possible to stay alive, the rest of our family was barely getting by on minimal sleep, geographic separation, and heavy doses of stress and anxiety. During one of Lilli's first months of treatment I had my annual physical, and the results were off the charts. A nurse called to make sure that I had fasted before my blood draw because, as she said, "the results look like you ate a double cheeseburger on the way here." Ouch! I had in fact fasted. While my daughter was fighting to live I was killing my body with poor diet and little exercise. If my daughter were to win her battle with cancer, then I wanted to be alive to see her and her siblings grow up.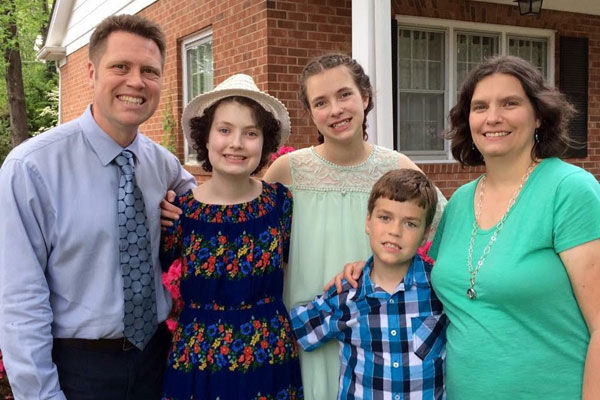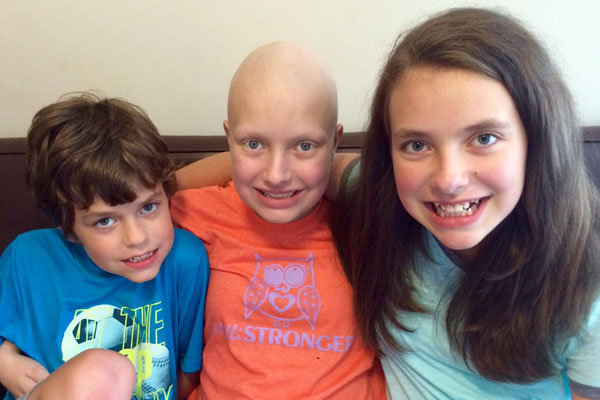 "I wonder what would happen if I were to run to the end of my street."
Her cancer in remission, Lilli was back home by mid-2015 and even finished out the sixth grade in the classroom. Things were getting back to normal, and I felt like I could afford to look in the mirror and do something for myself. I started with a few simple lifestyle changes, like giving up sweet tea and sugar in my coffee…cold turkey. I started shedding pounds immediately. Around that time I also started walking around my Greensboro neighborhood. One day I went out for a walk, stopped in the driveway, and thought, "I wonder what would happen if I were to run to the end of my street." I didn't know it at the time, but it's roughly ¼ mile from our house to the stop sign down the hill. It may as well have been ten miles! I played high school basketball, tennis, and golf, but I never liked to run for running's sake. As an out-of-shape 41-year old I needed a few attempts over several days before I could run that ¼ mile (yes, down-hill) without stopping. I ran for several months in my neighborhood, adding about ¼ mile to my "longest" run every other week or so. In November 2015 I finally ran a mile out from my house and then ran a second mile back to my house without stopping. I was exhausted, but conquering those two miles was exhilarating!
Lilli's leukemia had been in remission as early as the spring of 2015, but she continued monthly check-ups at Brenner. I would hold my breath at every clinic visit while waiting for her lab results, exhaling when the labs were "going in the right direction." But in early 2016 Lilli's blood counts started to drop. After a few clinic visits with fishy-looking labs accompanied by reassurances from the oncologists that everything was still "okay," I got a call one Friday afternoon from the head of the oncology team. "Mr. Hicks, upon further inspection of Lilli's labs we've noticed a high number of blasts (immature white cells, possible symptom of leukemia). We'd like to see you all in clinic on Monday to test Lilli's bone marrow for a recurrence of the cancer." What a gut punch!
Lilli's leukemia had returned by February 2016, and she began another three monthslong chemotherapy regimen at Brenner Children's Hospital to attempt to get the cancer into remission again (more difficult the second time around) so that she could go to Duke University Hospital in Durham for a bone marrow transplant, our only hope for a cure. We were told that Lilli had no adult or sibling match for a bone marrow transplant. Years ago such news would have meant certain death, but Duke pioneered a process using umbilical cord blood stem cells to save lives. Cord blood cells don't have to be perfect matches to work in a bone marrow transplant, and Lilli was fortunate to respond well to the chemotherapy the second time around and to receive cord blood stem cells from two partially-matching undisclosed donors. One of those donors' cells "won" and began to take over Lilli's bone marrow and blood cell production.
During Lilli's second chemotherapy treatments at Brenner LouAnne and I returned to our routine of taking turns sleeping at the hospital with Lilli. Now an avid runner, I alternated running between Greensboro and Winston-Salem. Later, the Ronald McDonald House of Durham was our home while Lilli was at Duke, and we spent the summer of 2016 in Durham as a family. I got used to running around Duke's campus and downtown Durham while my daughter was fighting for her life a second time. I had already fought my own physical battle, losing 40-50 pounds within a year and having glowing results at that year's annual physical. By then, however, I needed running to help clear my mind and deal with the mental and emotional toll that cancer had taken on me…twice!
In 2016 I decided to follow a runner friend's advice and "just sign up for a race." I ran the 2016 Owl's Roost Rumble 3.5 mile race that spring on a whim, as Lilli had a few days free that weekend between treatments at Brenner and Duke. I was hooked on races after Owl's Roost, but I waited until Lilli was finished with the transplant process and back home in Greensboro before running another race. Without much planning and with sporadic training over the summer I decided to run a half marathon that fall, and the 2016 Cannonball Half Marathon was my first time running that distance in race conditions.
I didn't know what to expect from a half marathon race, but the Cannonball lived up to everything I could've imagined. I bumped into a runner from Virginia around mile 3 and asked him our pace (I still hadn't invested in a GPS watch). Not only did he tell me our pace but he also helped pace me through the first 8 miles. I faded towards the end of the race and lost track of him, but I credit him for helping me get through a substantial chunk of that race and for teaching trained enough to keep up the pace nor to run a negative split. I didn't carry a water bottle with me. I didn't use gels or any other fuel along the way. I didn't have a watch to pace myself. I didn't even review the race map in advance and wasn't ready for the Food Lion Hill near mile 10-11. Though I had regularly run much of the Cannonball course I had never run up that steep hill and was unprepared. I had to run/walk the final few miles of the race, vowing to address all my lessons-learned in subsequent races. Having run now a total of six half marathons, I've tackled some – though not all – of those lessons.
Going into this fall I'm registered to run another Cannonball Half, a dress rehearsal for November's RDC Marathon in Durham, my very first full marathon. I decided to take the plunge and train for a full marathon for a few reasons, like when I discovered that the inaugural RDC is raising money for ALS research. One of my former bosses, another source of inspiration for me, was diagnosed with ALS last year. The final deciding factor came after RDC race organizers held a competition to design the race medal and selected my entry, inspired by our daughter and my former boss, as the winning design. I'm an architect and professor, not a
graphic designer, but I was full of design inspiration as someone who witnessed a life-threatening disease firsthand. Now I can't wait to run the race and wear a medal that I designed.
As summer turns again to fall, our now 15-year old Lilli continues to improve. The umbilical cord cells have made themselves at home in Lilli's body, and they're doing their job making healthy blood cells and protecting Lilli from infections. Modern medicine gave our daughter a second, then third, chance at life. Running has helped me get into better shape to experience that chance at life with our family of five. While cooler weather still brings back memories of Lilli's initial illness and cancer diagnosis, those memories are slowly being replaced by memories of running on crisp, cool fall mornings, the fall race schedule, and new PRs. I can feel it in my bones, and I'll keep running until fall is once again my favorite season.