When you think of Fall, you think of cooler temperatures and ideal running landscapes filled with colorful leaves. The Triad hosts the Cannonball Full and Half Marathon each Fall since 2004. In fact, 2016 was the first year the full marathon was introduced. The course starts in Country Park and winds its way around Greensboro and includes the A & Y Greenway (paved) trail. The finish line is back in Country Park. If you have traveled on the streets of Greensboro and the A & Y Greenway you know there are hills.
The good news is there are racers going in both directions on the hills which inspire all no matter which direction you are running. The course is well marked and Junction 311 enlists the help of local runners to pace the participants. I have personally paced the half marathon twice and raced the half marathon twice. For those I have not had the pleasure of meeting, I have lived in Greensboro since 1993 and have been racing since 1976. I consider myself a track athlete, but as I have aged track meets are few and far between. The Cannonball was my first half marathon EVER in my life. Quite frankly, the first time I ran it I was unsure I would finish much less earn 5th female overall with a 1:30 time. I was so intrigued by the Cannonball half marathon distance I skipped the next year (woke up to torrential rains and turned over) and came back the following year to a new course which appeared easier because there were more opportunities to see other racers which translated to more spectators. I was fortunate to win first overall female in 1:27:58 which turns out to still be my PR at the half marathon distance. While I am still running strong in my fifties, I have been enjoying more pacing than racing.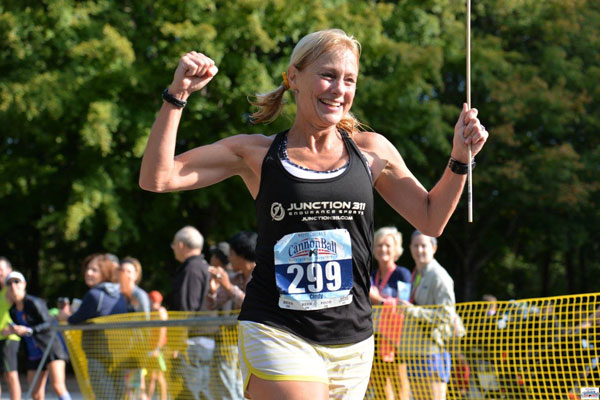 I am a pacer because I love the conversations that connect us during 13.1 miles. There is so much satisfaction helping others achieve their running goals while you yourself are active. I love imparting any and all tips I have accumulated over the years about running, racing and living healthy. The course this year is slightly different from last year and many of the triad runners know these streets very well. Several running groups meet and run (in all directions) from Spencer Love Tennis Courts. Most runners find comfort in knowing the terrain and knowing where they are at any given point during the race without glancing at their watch. Pace groups provide distractions that keep runners from staring at their watches and analyzing their running performance, but it is the volunteers who truly make this race memorable. They combine southern hospitality with true running knowledge and their enthusiasm is contagious. Speaking of enthusiasm, I was surprised after I crossed the finish line at the 2016 Cannonball Half Marathon with an invitation to be a running ambassador for our local Lululemon store. I am proud to be affiliated with an organization that not only gives back to the community but believes in their ambassadors as true influencers in the local community. They could spend their time and money on professional athletes or slick advertising mediums, but they would rather invest in each community they inhabit. I invite you to sign up for the Cannonball race and experience the best of the Triad community racing, pacing and cheering on the runners.