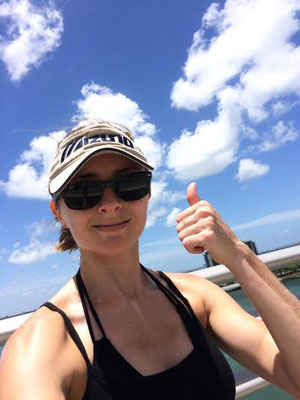 It's about time to grab my tooth pick and jimmy the gnats out of my teeth and complete a run without appearing like someone shook the shake out of a pepper shaker all over me. Ah, summer running, you had me a blast!
From the time I was a kid, all the way to today: I can't help but be feverishly sprinting towards those cool-hot days where a leaf falls and if I catch it on the run – I know I have good luck for the next month. This started when, as kids, we would dance and dart around the backyard next to a painted-white bench hung by two metal chains equaling a swing. We would sit on the swing and bounce it as hard as we could to shake the leaves from tired, old oak trees that stood equally grimacing at each other daring the other to collapse first. As the swoosh-woosh of the aching trees allowed their red, orange and yellow leaves to fly and float freely into our hoping grasps, we dashed through the backyard in the hopes of catching one of these "month of luck" leaves…or just get whacked in the head with one of those brown, prickly things.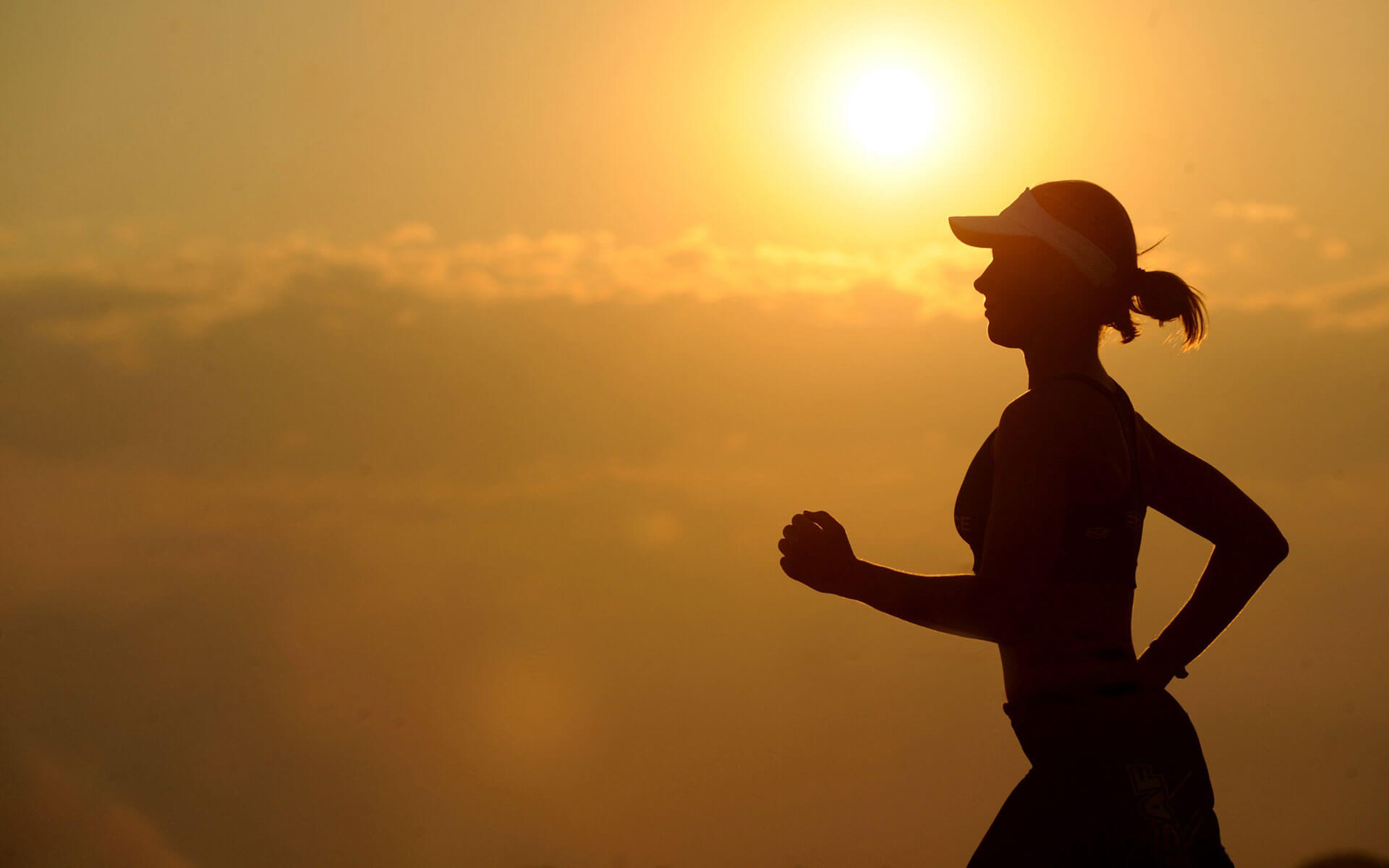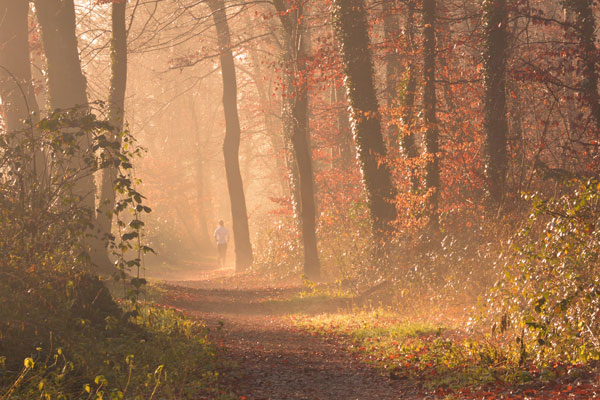 Fall is invigorating. Fall is where we step eagerly away from Summer base training and narrow our focus
to a the hallowed marathon or half-marathon that we have carefully chosen. The weeks count down and each
week is fraught with key workouts and mileage goals. We are motivated for every strengthening workout
by the arrival of that chilled air of race morning that punches each nerve in our lungs and sends pure energy into our legs.
My marathon PR is 2:46:08 and I would be lying if I wasn't hungry to go after that Olympic Trials standard
(now 2:45:00 for a B standard to gain entry to the race, where in 2012 it was 2:46:00) one more time. However, through the initial pursuit, I learned a few things about training and about distance running.
At this moment, we are all at our unique starting places as we enter into fall. Some have trained & raced
all summer, some have had high mileage weeks, low mileage weeks, or spent time in the gym cross-training
and doing strength work. Some have time goals, victory goals, or just finish goals for their upcoming fall race and each of us work daily towards them.
In 2016, I was able to run the Richmond Marathon and finish 4th, and as the 2nd American in a time
of 2:51:31. I had been running 45 miles a week or less. For comparison, in 2011 when I ran my PR, I was
running 60 to 70 miles a week. While for each race, I was coming from a different starting point in terms of
weekly mileage, there are a few key workouts that really helped me in my Marathon Training (which can be
amended for a half-marathon by simply cutting them in half). Here are three workouts that are a key part of my marathon training:
Workout One:
10 x 1 Mile with 1 Minute Rest:
Just reading what this workout is and thinking about 40 laps on a track or 10 jaunts up and down a 1-mile
stretch or just 10 mile repeats PERIOD is daunting! However, this is a crucial workout in my marathon
training and I usually reserve this one for one of my final workouts in the great buildup to the race. About
8-12 weeks out, this workout is somewhere between 5-7 mile repeats with a focus on hitting my target pace.
I will do this workout three to four times in a marathon cycle, adding one repeat until the BIG day when I do 10. When I was training to run 2:46:00, my pace for these repeats was 5:55-6:00 per repeat while the goal
race pace is about 6:18-6:20 per mile. As you should have a base built from your summer training, these
should feel moderately hard but never to the point that you cannot finish this workout. If they feel that hard, adjust back the pace. These repeats are about 20 to 25 seconds slower than my target race pace.
Lesson Learned: This workout helps with mental focus & working on cadence, the short rest is enough to re-center while not allowing the body to recover too much between. My focus is on quality and not red-lining, but gradually extending the threshold so I can take on more work, get faster, and the effort never leads to over-exertion.
Workout Two:
20 x 400m with 90 second Rest or 200 jog
Again, another track workout! However, this one will add in a little turnover and is built on the same principle as the mile workout where we do not start with 20 x 400m, but build gradually over the weeks leading to the race. With these and about 8-12 weeks out, I will always start with a goal of 10 to 12 repeats and build to 12-16, and finally to 20 repeats. These are a bit quicker as I would typically
target 80-82 seconds per 400m, however, we extend the rest a little as the focus is hitting the goal pace each time. Within this workout, there comes a rhythm to the repeats and allows our lungs to work just a bit harder for a short period of time. With marathon training, our legs can become very accustomed to the same repeating stride and cadence and the goal is to keep some perkiness in the legs should you need to surge in the race. This workout combines speed and endurance.
Lesson Learned: These should feel fairly quick in marathon training, because you are used to running very
long slow distances at this point. However, it should not feel like an all-out sprint; if it does, adjust back your paces. Focus on a two-second range and in earlier repeats allow yourself to hit the slow end of the range with the goal to be faster in later repeats. We want our bodies to learn to go faster when fatigue begins to set in; this really helps when you get past the 16 mile hump in the marathon.
Workout Three:
16-20 Mile Progressive "Tempo"
A lot of people argue just what "tempo" pace means and this is definitely a workout that is not needed by
every BODY in marathon training, but I have learned that my body needs to learn to run for a longish time at a pace that is relatively taxing to my legs and lungs. In order to do this workout, I typically outline a four to five mile loop and place water & gels along the loop. For the build up to all of my marathons, I will probably do this VERY long tempo twice, once about six weeks out and next about two to three weeks out. As far as paces go for the workout, I typically set an overall pace goal and start at a slower pace than the target and progress to a faster pace by the end which is usually near my race pace or faster.
For the 2016 Richmond Marathon, my goal was to run 6:30 pace and so in my training, I created two
separate loops that were about 4 miles each. The first time that I did this workout, I set a goal overall pace of 6:40 to 6:45 and I started the run closer to 6:55 pace and progressed to about 6:30 pace. Closer to the race day, I set out to do a 20-mile 'tempo' and set the goal of 6:35 to 6:30 pace (yes, my goal race pace) and started the workout at 6:45 pace and progressed to about 6:20 pace. When I finished the
20-mile tempo last year, I had reached my goal of 6:30 pace… and yes, had just run over ¾ of a marathon.
Lesson Learned: You can never predict what is going to happen on the day of the race and so it is important to try to simulate these longer tempos not only for mental toughness, body preparation, but also as semi-dress rehearsals. This workout builds confidence; "Hey, if I can make it 16 miles at a tough base, I can make it 10 more!" or "Hey, what's six more miles when I just ran 20 AT my race pace." By starting slower and progressing down your pace, you are teaching your body to be patient, your mind to be a bit calmer without pressing too hard too soon, and relax into a successful race.
Moral of the Story: Let's embrace the time of year where we Fall backwards and keep running forwards
towards our running goals and dreams. Happy Running!